Thornaby Academy is Committed to Safeguarding Children
We recognise that we have a primary responsibility for the care, welfare and safety of the students in our charge, and we will carry out this duty through our teaching and learning, extra-curricular activities, pastoral care and extended Academy activities. In order to achieve this, all members of staff (including volunteers and governors) in this Academy, in whatever capacity, will at all times act proactively in child welfare matters especially where there is a possibility that a child may be at risk of significant harm.
Our teaching of personal, social and health education citizenship, as part of the National Curriculum, helps to develop appropriate attitudes in our children, and makes them aware of the impact of their decisions on others. We also teach them how to recognise different risks in different situations, and how to behave in response to them (e.g. 'stranger danger' and 'internet safety').
We recognise that abuse and neglect can result in underachievement. We strive to ensure that all our children make good educational progress.
Thornaby Academy seeks to adopt an open and accepting attitude towards children as part of its responsibility for pastoral care. The Academy hopes that parents and children will feel free to talk about any concerns and will see the Academy as a safe place if there are any difficulties at home.
Children's worries and fears will be taken seriously if they seek help from a member of staff.
In our Academy, if we have suspicions that a child's physical, sexual or emotional well-being is being, or is likely to be, harmed, or that they are being neglected, we will take appropriate action in accordance with the procedures issued by Stockton-On-Tees Local Safeguarding Children Board.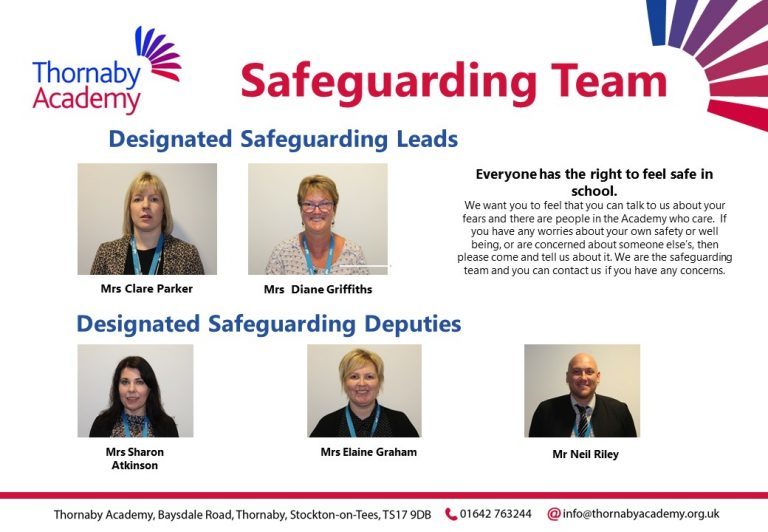 ---
How We Identify Visitors and Staff in the Academy
Any adult who is in the Academy during school hours MUST be identified by a coloured lanyard with ID tag. Students should inform the nearest member of staff immediately if they see an adult without one.
We use the following colours:
All members of staff: Yellow lanyard
Visitors with DBS (Disclosure and Barring Service) clearance: Green lanyard
Visitors without DBS (Disclosure and Barring Service) clearance: Orange lanyard and must be accompanied by a member of staff at all times.
---
FREE Online courses for parents to keep your children safe
At Thornaby we are committed to the safeguarding of all children and if you have any concerns about a child, then please speak to a member of staff at the Academy or use the Thornaby Safeguarding email address: tasafeguarding@thornabyacademy.org.uk.
To continue working with parents to ensure that children are safe, we would like to share with you two FREE online courses which we would recommend to parents:
Understanding Young Minds
A free online course for parents regarding suicide and self-harm.
http://www.safeguardingchildrenea.co.uk/self-harm-free-online-course/?utm_source=Homepage
---
Do you know WHO your child is WITH and WHAT they are doing?

BE ALERT
When your child tells you they are going to a friend's house or asks to 'sleep out' they may not always be where you think they are!
BE AWARE
Speak to your child about where they are going every time they go out and if they ask to sleep out at a friend's ask Who, Where & When.
Always tell your child if they ask for a 'sleep out' you will speak to their friend's parent/carer to confirm
Follow this up!
Explain every time they go out and or ask to sleep over at friends you will ask questions and do a SAFE check because you are responsible to protect them.
This campaign is to promote checking children's whereabouts to prevent them being at risk and in the Wrong Hands.
For confidential advice and support contact Barnardo's on 01642 300774
If you are worried about a child contact Social Care on 01642 771500
If you believe a child may be in immediate danger call Cleveland Police on 101
---
Personal Alarm recommended by Gloucestershire Police – Hollie Guard
Please see the hyperlink below which provides details of a new app called Hollie Guard, which is an app that can be used as a personal alarm. It is a next generation smart phone app that provides enhanced levels of protection.
The app is a way to ensure your child's phone can be used as a personal alarm, a way to discreetly get help, and alert friends and family to their whereabouts. This could be a useful safety tool for young people.
Available for iPhones, Android and Windows, Hollie Guard keeps your entire family safe.
Keep an eye on your children while they're traveling with 'Journey'.
Teens can get help quickly while out with friends.
Parents, guardians, and caregivers are automatically contacted by both SMS and email.

---
Other Useful Resources and Websites
The Ultimate Parent Guide for Protecting Your Child on the Internet by vpnMentor

www.vpnmentor.com/blog/the-ultimate-parent-guide-for-child-internet/
Pixel Privacy Parent/Carers Guide
https://pixelprivacy.com/resources/keep-children-safe-online/

PUBG Parent's Guide

www.nationalonlinesafety.com/resources/platform-guides/pubg-parents-guide/